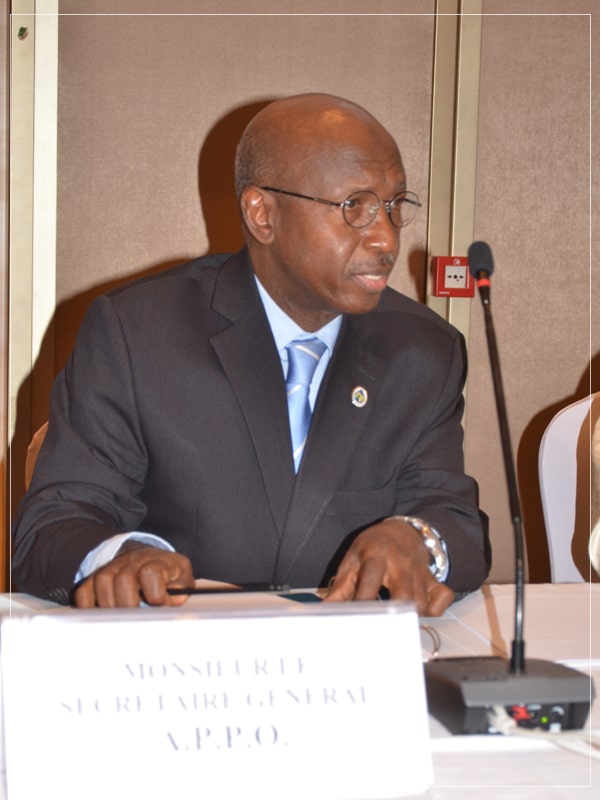 Madam chairperson, Distinguished Members of the Executive Board, I welcome you all to the 6th Meeting of the APPO Executive Board holding in hybrid form with delegates in attendance here in Niamey, the seat of the Presidency of APPO for 2020, as well as via video-conference across our various national capitals. I am pleased to note that all Member Countries are participating in today's meeting with 07 EB Members attending in person while 08 are connected via video conference.
I should like to note that this is the first meeting of the Executive Board since the Secretariat relocated to its permanent Headquarters in Brazzaville city. I would like to use this opportunity to express our deep appreciation to the Government and good people of the Republic of Congo and in particular Mr. Jean-Noel Makaya, the Executive Board Member of the Republic of Congo and his team in Brazzaville for the support they gave the Secretariat in the course of our relocation.
Madam chairperson, Distinguished EB Members, the relocation of the Secretariat to Brazzaville marks the beginning of our aggressive drive towards achieving our aspirations as enshrined in our Statute: to become the world's reference institution on Africa's hydrocarbon matters. Henceforth we shall not delay taking key decisions because we are unsure where and when we are going to be settled.
The various challenges that APPO and the global community were confronted with in the outgoing year notwithstanding, the Secretariat recorded some achievements. Some of them include:
The design, development and launching of a new APPO website: www.apposecretariat.org as well as dedicated email addresses for staff, Ministers and EB Members;
The development of a Corporate Communications Guidelines;
The relocation of staff, equipment and Secretariat from Abuja to Brazzaville;
The signing of the New Headquarters Agreement with the Republic of Congo;
Launched recruitment process;
Embarked on digitization of APPO files, documents and archives;
Begun coordination work on the Study of the Future of the African Oil Industry in the light of COVID-19 and COP 21;
Successfully organized 3 EB and Ministerial Meetings;
Initiated a mechanism for cooperation and collaboration with the African Refiners and Distributors' Association, ARDA, and the Africa Energy Commission, AFREC, and this initiative is to lead to the formation of the Africa-OPEC Energy Dialogue in early next year.
Madam chairperson, Distinguished EB Members the leadership of the Secretariat is determined to raise the profile of APPO to be comparable to or even exceed those of its peers in the industry. But no matter how determined we are, no matter how committed we are, we can only achieve what the resources available to us can allow us to achieve. And by resources I do not limit it to financial support. We recognize the difficult times our Member Countries are going through and would always be mindful of our demands: What we believe is an even more Important resource for the achievement of our objectives is your constant guidance; support and trust: Of course, we are mindful of the fact that trust is not given: it is earned: We assure you that we will work to earn your trust: We will not fail you: We will not fail our Member Countries and we will not fail our peoples:
In the past meetings of the Executive Board; I had delivered both the opening remarks and the presentations: Now that the Secretariat is settling down with its staff; and in the spirit of team work; the relevant officials will deliver the presentations while I focus on the opening remarks; highlighting some of the key contents of the presentations. I will be available to clarify matters as needed.
As we requested and the Board graciously approved at the Extraordinary Meeting of the EB last August; you will see an increase in the 2021 budget of the Secretariat of about 29 percent of the full 2020 budget:
The Secretariat Work Program for 2021 which will be presented by relevant officers should be viewed as a transitional or Skeletal Work program in the sense that we only have one-sixth of the approved workforce of the Secretariat: The recruitment process for the officer corps takes an average of 9 months: While we will do all within our powers not to compromise on the process of recruitment; we will strive to have the positions in phase one filled by the end of the first half of 2021:
I would like to appeal to distinguished EB Members particularly those whose countries have not yet paid their contributions to assist the Secretariat get these monies paid:
Thank you for your kind attention.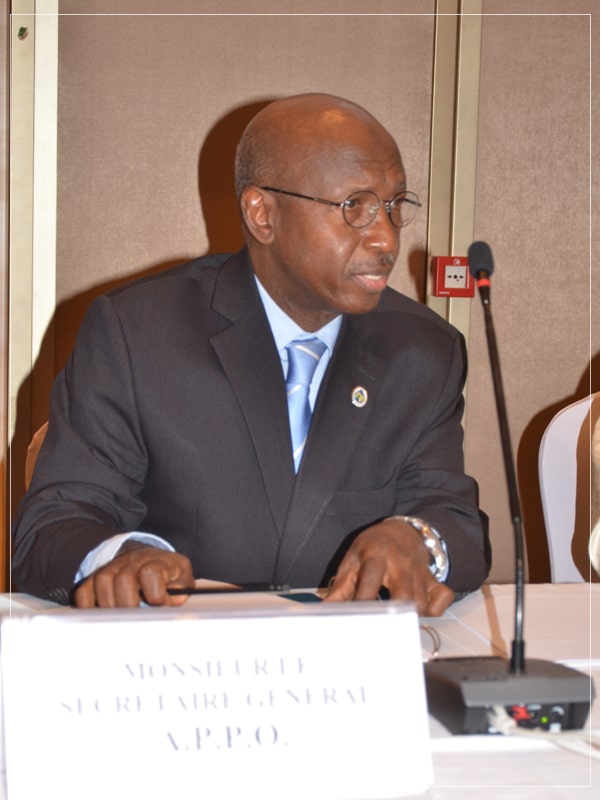 Madame la Présidente, Distingués membres du Conseil Exécutif, je vous souhaite à tous la bienvenue à la 6ème réunion du Conseil Exécutif de l'APPO qui se tient sous forme hybride avec les délégués présents ici à Niamey, le siège de la Présidence de l'APPO pour 2020, ainsi que par vidéoconférence à travers nos différentes capitales nationales. Je suis heureux de constater que tous les Pays Membres participent à la réunion d'aujourd'hui avec les 7 membres du Conseil Exécutif y participent en personne tandis que 8 sont connectés par vidéoconférence.
Je tiens à souligner qu'il s'agit de la première réunion du Conseil Exécutif depuis que le Secrétariat a déménagé dans son siège permanent dans la ville de Brazzaville. Je voudrais saisir cette occasion pour exprimer notre profonde gratitude au gouvernement et au bon peuple de la République du Congo et en particulier à M. Jean-Noël Makaya, Membre du Conseil Exécutif de la République du Congo et à son équipe à Brazzaville pour le soutien qu'ils ont apporté au Secrétariat au cours de notre déménagement.
Madame la Présidente, Distingués membres du Conseil Exécutif, le déménagement du secrétariat à Brazzaville marque le début de notre volonté de réaliser nos aspirations telles qu'elles sont inscrites dans nos Statuts : devenir l'institution mondiale de référence pour les questions relatives aux hydrocarbures en Afrique. Désormais, nous ne retarderons pas la prise de décisions clés parce que nous ne savons pas où et quand nous allons être installés.
Malgré les divers défis auxquels l'APPO et la communauté mondiale ont été confrontées au cours de l'année écoulée, le Secrétariat a enregistré quelques réalisations. En voici quelques-unes :
La conception, le développement et le lancement d'un nouveau site web : www.apposecretariat.org ainsi que des adresses électroniques dédiées aux Ministres et aux Membres du CE ;
L'élaboration d'un guide de communication pour les entreprises ;
Le déménagement du personnel, de l'équipement et du Secrétariat d'Abuja à Brazzaville ;
La signature du nouvel Accord de Siège avec la République du Congo ;
Lancement du processus de recrutement ;
Lancement de la numérisation des dossiers, documents et archives de l'APPO ;
Début des travaux de coordination de l'étude sur l'avenir de l'industrie pétrolière africaine à la lumière de la COVID-19 et de la COP 21 ;
Organisation avec succès 3 réunions du Conseil Exécutif et des Réunions Ministérielles ;
Initié un mécanisme de coopération et de collaboration avec l'Association des Raffineurs et Distributeurs Africains, ARDA, et la Commission Africaine de l'Energie, AFREC, et cette initiative doit aboutir à la formation du dialogue Afrique-OPEP sur l'énergie au début de l'année prochaine ;
Madame la Présidente, Distingués Membres du CE, la direction administrative du Secrétariat est déterminée à améliorer le profil de l'APPO pour qu'il soit comparable, voire supérieur à celui de ses pairs dans l'industrie. Mais quelle que soit notre détermination, quel que soit notre engagement, nous ne pouvons réaliser que ce que les ressources à notre disposition nous permettent de réaliser. Et par ressources, je ne me limite pas à un soutien financier. Nous sommes conscients des moments difficiles que traversent nos Pays Membres et nous serons toujours attentifs à nos demandes : Ce que nous considérons comme une ressource encore plus importante pour la réalisation de nos objectifs, c'est votre orientation constante, votre soutien et votre confiance : Bien sûr, nous sommes conscients du fait que la confiance n'est pas donnée : elle se gagne : Nous vous assurons que nous nous efforcerons de gagner votre confiance : Nous ne vous décevrons pas: Nous ne décevrons pas nos Pays Membres et nous ne décevrons pas nos peuples :
Lors des dernières réunions du Conseil Exécutif, j'avais fait les remarques d'ouverture et les présentations : Maintenant que le Secrétariat s'installe avec son personnel, et dans un esprit de travail d'équipe, les fonctionnaires concernés feront les présentations tandis que je me concentrerai sur les remarques d'ouverture, en soulignant certains des principaux contenus des présentations. Je serai disponible pour clarifier les choses si nécessaire.
Comme nous l'avons demandé et comme le Conseil l'a gracieusement approuvé lors de la réunion extraordinaire du Conseil Exécutif en août dernier, vous constaterez une augmentation du budget 2021 du Secrétariat d'environ 29 % du budget total 2020 :
Le programme de travail du Secrétariat pour 2021 qui sera présenté par les responsables concernés doit être considéré comme un programme de transition ou de travail squelettique dans le sens où nous ne disposons que d'un sixième de l'effectif approuvé du Secrétariat : Le processus de recrutement du corps d'officiers dure en moyenne 9 mois : Nous ferons tout ce qui est en notre pouvoir pour ne pas faire de compromis sur le processus de recrutement ; nous nous efforcerons de pourvoir les postes de la première phase avant la fin du premier semestre 2021 :
Je voudrais lancer un appel aux distingués Membres du Conseil Exécutif, en particulier à ceux dont les pays n'ont pas encore payé leurs contributions, pour qu'ils aident le Secrétariat à obtenir le versement de ces fonds.
Merci pour votre aimable attention.