1st African Local Content Roundtable Full Video
The 1st African Roundtable Local Content was held from June 3 to 4, 2021 in Yenagoa, Bayelsa State, Federal Republic of Nigeria. The main theme of the Roundtable was "Common Commitment to Fostering Local Content in Africa".
Organized by the Nigerian Content Development and Monitoring Board (NCDMB) and the African Petroleum Producers' Organization (APPO), the roundtable aimed to:
Create platform for African peer review on local content development in the hydrocarbon sector
Evaluate regulatory models for the governance, funding and monitoring of local content implementation in frontline economies
Lay a solid foundation for the design of an African local content programme to maximise economic benefits from implementation of African Continental Free Trade Agreement in hydrocarbon value chain
Data sharing on capacities that exist in skills, infrastructure, facilities, assets and funding for exploration, field development and production activities in Africa
APPO Member Countries attended this first round table, some physically and others online. Each Member of the Executive Board was invited to present the situation of Local Content in his country. An update on Local Content at the Secretariat's level was made by the Head of Office of the Secretary General who took the opportunity to submit to the discussions a strategy for the elaboration of the African Local Content Development Program which has become more than an imperative in view of the Agreements on Climate Change and Energy Transition.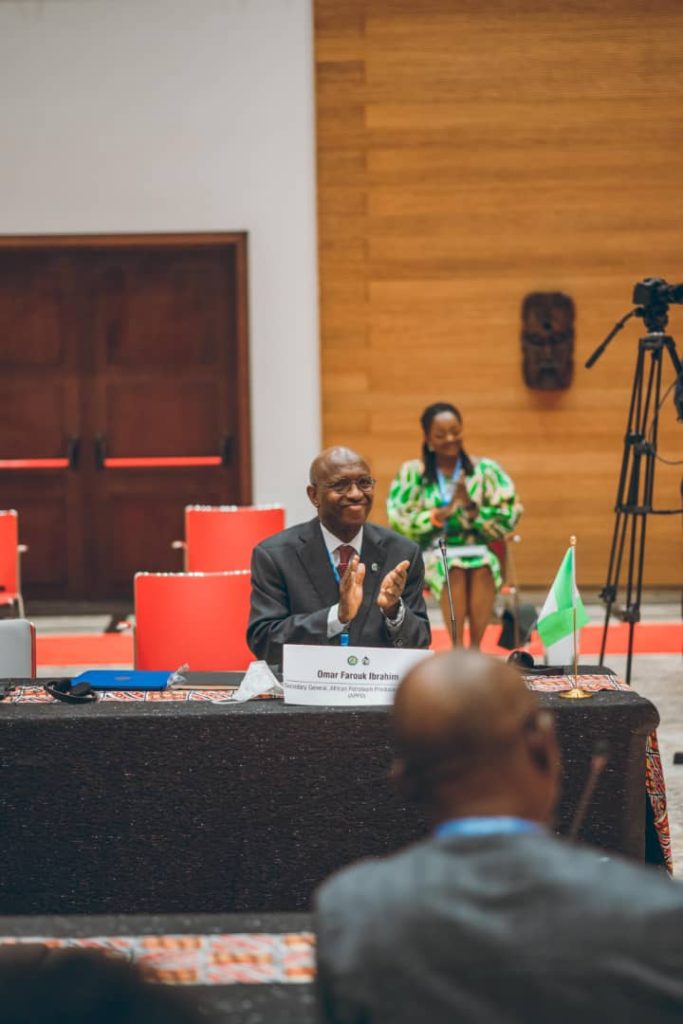 In the technical sessions devoted to the sub-theme, there was a presentation by ECOWAS on the topic: "Creating a Hydrocarbon Development Framework to Enhance Sustainable Socio-Economic Development in West Africa", presented by the Commissioner in charge of Energy and Mining, Sediko Douka.
The second presentation on "The Role of Information and Data Sharing in Building Capacity and Trade Linkages among African Oil Producing Countries under the African Continental Free Trade Area Agreement" was made by the Secretary of the National Action Committee on the Implementation of the African Continental Free Trade Area, ACFTA, Francis Anatogu.
Finally, Mr. Zakaria Dosso, Managing Director of Africa Energy Investment Corporation (AIECorp) spoke about "APPO's Sustainable Financing Strategy for Infrastructure, Supply Chain, Research and Human Capital Development in Africa".
At the end of the proceedings, the roundtable highlighted the need to review the Paris Agreement to take into account the situation of Africa in terms of greenhouse gas emissions and its great potential that is still poorly exploited.
The participants of the first roundtable also had the opportunity to experience and share Nigeria's success in the field of Local Content including a visit to a site where an integrative one-stop-shop project entitled "Nigeria Oil and Gas Park" is being built.
Some more pictures