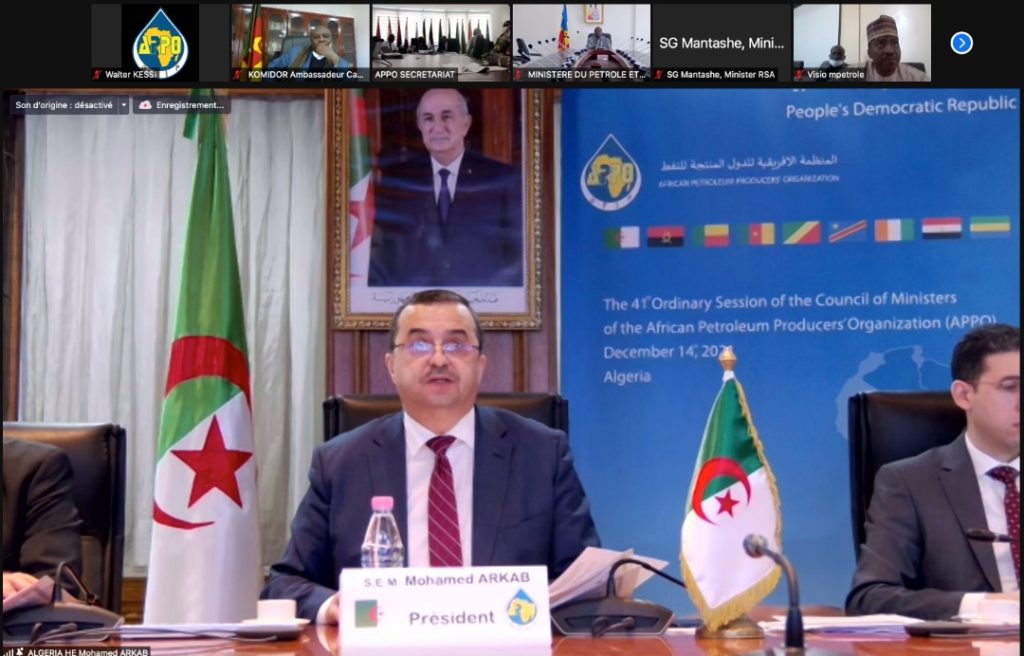 La 41ème Session Ministérielle de l'Organisation des Producteurs de Pétrole Africains (APPO) vient de se tenir en visio-conférence ce mardi 14 décembre 2021.
Les ministres ont unanimement pris la résolution de poursuivre l'exploitation des énormes ressources pétrolières et gazières de ses Pays Membres pour l'émancipation économique de ses populations tout en explorant l'utilisation des énergies renouvelables.
La séance a été présidée par le Ministre des Mines et de l'Énergie de la République d'Algérie, Son Excellence Mohamed Arkab, Président en exercice de l'Organisation, et a vu la participation de plusieurs ministres des Pays Membres, des pays observateurs et organisations partenaires.
La question de l'Avenir de l'Industrie Pétrolière et Gazière en Afrique, à la Lumière de la quête mondiale de transition énergétique, figurait à l'ordre du jour des discussions Ministérielles.
Les Ministres ont reconnu la réalité du changement climatique et ont exprimé leur soutien à tout effort humain visant à lutter contre les dangers du changement climatique. Cependant, les ministres ont « noté que l'approche actuelle de la transition énergétique est une imposition unilatérale où les pays développés qui, pendant plus de cent ans, ont utilisé les combustibles fossiles pour développer leurs économies et leurs sociétés, et qui ont toujours été conscients des dangers des émissions de combustibles fossiles, disent maintenant au monde que les combustibles fossiles sont dangereux pour l'humanité et que tous devraient les abandonner ».
Plusieurs importantes décisions ont été prises par les ministres.
————————–
The 41st Ministerial Session of the African Petroleum Producers' Organization (APPO) was held in videoconference this Tuesday, December 14, 2021.
The ministers unanimously took the resolution to pursue the exploitation of the huge oil and gas resources of its Member Countries for the economic emancipation of its people while also exploring the use of renewable energies.
The session was chaired by the Minister of Mines and Energy of the Republic of Algeria, His Excellency Mohamed Arkab, current President of the Organization, and was attended by several ministers from Member Countries, observer countries and partner organizations.
The issue of the Future of the Oil and Gas Industry in Africa, in the light of the global quest for energy transition, was on the agenda of the Ministerial discussions.
Ministers acknowledged the reality of climate change and expressed support for all human efforts to combat the dangers of climate change. However, the Ministers "noted that the current approach to the energy transition is a one-sided imposition where developed countries, which for over a hundred years have used fossil fuels to develop their economies and societies, and which have always been aware of the dangers of fossil fuel emissions, are now telling the world that fossil fuels are dangerous to humanity and that everyone should give them up.
Several important decisions were taken by the ministers.