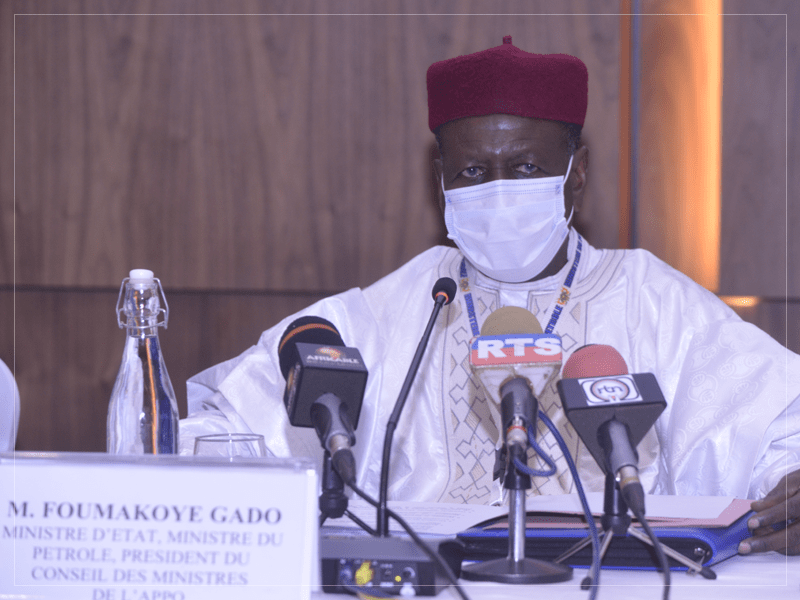 NIAMEY, REPUBLIC OF NIGER.
THURSDAY 19th NOVEMBER 2020
Excellency Mr. BRIGI RAFINI, Prime Minister and Head of Government of the Republic of Niger;
Your Excellencies Ministers and Heads of Delegations of APPO Member Countries participating in the 39th Session of the Council of Ministers in Niamey, as well as those participating online from our Member Countries' capitals;
Your Excellencies the Ambassadors of APPO Member Countries accredited to the Republic of Niger;
Members of the Executive Board of APPO;
Your Excellency, Secretary General of APPO;
Mr. Director General of the African Energy Investment Corporation, AEICORP;
Dear General Managers of the National Oil Companies present here;
Distinguished Delegates, Ladies and Gentlemen;
I would like to join H.E. BRIGI RAFINI, Prime Minister, in welcoming our distinguished guests to Niamey for the 39th Session of the APPO Ministerial Council, as well as the 6th Meeting of the Executive Board which took place last Tuesday:
I would also like to welcome the Ministers and other delegates who were unable to join us in Niamey for unavoidable reasons, but who are participating in this Meeting by videoconference.
In addition, I would like to welcome to the Council of Ministers of APPO, Messrs. Abdelmajid ATAR and Oumar TORBO DJARMA, respectively the new Ministers of Energy of People's Republic of Algeria and of Petroleum and Mines of Chad, who are attending, for the first time, the APPO Council of Ministers Session, and to extend our best wishes to their predecessors.
I would also like to extend our congratulations to His Excellency Gabriel Mbaga Obiang Lima, Minister of Mines and Hydrocarbons of the Republic of Equatorial Guinea for his brilliant and well-deserved reappointment after the dissolution of the Government of his country a few months ago.
The reappointment of H.E. Gabriel Lima is proof of the recognition of his contribution to the transformation of the Energy and Industry Sector in his beloved country, Equatorial Guinea: On behalf of all of us, I wish him a very successful mandate and many more contributions to his country and to our Organization:
Your Excellency Prime Minister, Distinguished Ministers,
So much has changed since our Ordinary Session in Abuja in December 2019. None of us ever imagined what would happen to the oil market in just a few months after that Session. Within three months, oil prices began to fall to levels never seen before. The foundations of our national economies were shaken to their roots and many of our Member Countries had to postpone important projects they had planned.
However, the rapprochement of OPEC and its partners in the Declaration of Cooperation in the second quarter of 2020 helped to save the situation. But we are not there yet. I would like to take this opportunity to congratulate our Member Countries that are also members of OPEC and those of the Cooperation Declaration whose efforts and sacrifices have helped to contain the decline in oil prices:
I would also like to congratulate our Member Countries who are not in OPEC or the Declaration of Cooperation, but who supported our proposal at the height of COVID-19 in April 2020 to send messages of solidarity to OPEC and the Declaration of Cooperation partners during this critical period.
Excellency, the year 2020 has taught us a great lesson, a lesson we will never want to repeat, it has taught us the dangers of over-reliance on external sources for the marketing of our crude oil, for the financing and maintenance of our oil and gas industry and for external technology. Although this is a reality today with all our Member Countries, this situation cannot and should not last forever. We are making efforts to change the situation. But we must do even more, because time is not on our side.
In this regard, I am pleased to note that the Council of Ministers approved a major restructuring and reform of APPO, whose mission was successfully completed last year with the appointment of a new management team to meet the current and future challenges of the oil industry on our Continent.
I am also pleased to note that notwithstanding the initial challenges posed by COVID-19 in 2020, we made progress in consolidating the reform of our Organization.
APPO finally moved to its permanent headquarters in Brazzaville, the Headquarters Agreement between the Republic of Congo and APPO was signed exactly one week ago, and the Organization's staff is now operating from the BSCA Building pending completion of the 11-story APPO Tower in Brazzaville city Center.
On behalf of all our Member Countries, I would like to express my gratitude to the Government and people of the Republic of Congo for their support. Our special gratitude goes to our colleague Mr. Jean Marc Thystere TCHICAYA, Minister of Hydrocarbons of the Republic of Congo for the support provided to the Secretariat. I would like to ask him to ensure that the headquarters of the Permanent Secretariat is quickly completed so that all approved Secretariat staff can be fully accommodated.
Minister Tchicaya, please convey our deep gratitude to the Government and people of the Republic of Congo.
Allow me also to express our gratitude to the Government and people of the Federal Republic of Nigeria for hosting the Secretariat of the Organization for 30 months, during which time Nigeria has provided almost all the requirements of the Secretariat at no cost to the Organization. We thank you, Minister Sylva, and would like to convey our profound gratitude to the Government and people of the Federal Republic of Nigeria.
Excellencies, we are meeting today to consider the recommendations of the Executive Board which met last Tuesday to review the Secretariat's activities, in particular its work programme and budget for 2021. I would like to remind you that we only completed the reform and restructuring of APPO last year with a commitment to ensure that our Organization significantly improves its services in order to better serve the interests of the Member Countries.
As we noted since the beginning of the APPA reform, a few years ago, the challenges facing the oil and gas industry in Africa are unique: in addition to the issue of oil market volatility that affects all oil producers, we in Africa have the peculiar challenge of overdependence on foreign oil export revenues, foreign technology and finance, and in some cases, even human resources. These issues were raised at the 38th Extraordinary Session of the Council where we took the decision to commission a Study on the Future of the Oil and Gas Industry in Africa in the light of COVID-19 and COP 21, we look forward to the results and recommendations of this study to help us better plan for the future of the industry on our continent.
Excellencies, with 2020 being the first full year since the completion on the APPA reform and the appointment of a new team to lead the Secretariat, as APPO President, I can say that we are on the right track. The Secretariat is being managed in a very professional manner. The Executive Board is exercising all its responsibilities. I would like to congratulate the Secretariat and the Executive Board for their commitment to professional excellence. On our part, as Ministers, I would like to assure you of our support so that you can continue to excel.
Excellencies, it should also be noted that no organization's objectives can be realized without resources. While recognizing the difficulties that our Member Countries are going through, it is also important that we commit ourselves to avoid a more serious danger in the future. In this regard, I would like to appeal to those Member Countries with annual contributions in arrears, including those that have not paid their 2020 contributions, to do so as soon as possible.
The new APPO that we want to build cannot succeed without the financial and moral support of all of us. It is worth reminding you that the challenges facing the petroleum industry in Africa are enormous. Excellencies, of the three inter-governmental energy organizations, APPO, International Energy Forum, IEF, OPEC and the GECF, APPO has the least resources. Despite the fact that our membership is more than that of OPEC and the GECF, our annual budget is less than 10% of OPEC's budget, and about 20% of GECF's budget. Yet, we want APPO to perform as well as or even better than these organizations.
Your Excellency Prime Minister; Excellencies Heads of Delegations,
In our quest to address the challenges of financing energy projects on the African continent, recognizing that our sources of foreign direct investment are becoming scarcer due to the discriminatory policies put in place against fossil fuels by our traditional financiers, we approved the recommendation to recapitalize the African Energy Investment Corporation, AEICORP, the financial arm of APPO, which objective is to help raise funds for energy projects on the continent:
During our Extraordinary Session in June 2020, the Council approved the grouping of countries for fundraising purposes and our colleagues graciously accepted the responsibilities of helping to mobilize Member Countries to subscribe to the initial offer. During this Session, we will have updates from the Team Leaders on their efforts.
I therefore invite everyone to work to ensure the successful take-off of AEICORP. For our part, The Republic of Niger was the first country to commit to AEICORP and we call on the other Member Countries to follow suit.
Thank you for your kind attention.
NIAMEY, RÉPUBLIQUE DU NIGER.
JEUDI 19 NOVEMBRE 2020
Excellence Monsieur BRIGI RAFINI, Premier Ministre et Chef du Gouvernement de la République du Niger ;
Excellence Mesdames et Messieurs les Ministres et Chefs de délégations des Pays Membres de de l'APPO participant à la 39ème session du Conseil des Ministres réunis à Niamey, ainsi que ceux qui participent en ligne à partir de nos capitales des Pays Membres ;
Excellences Messieurs les Ambassadeurs des Pays Membres de l'APPO accrédités auprès de la République du Niger ;
Messieurs les membres du Conseil Exécutif de l'APPO ;
Excellence Monsieur le Secrétaire Général de l'APPO ;
Monsieur le Directeur Général de la Société Africaine d'Investissement en Energie, AEICORP ;
Messieurs les Directeurs Généraux des Sociétés Pétrolières Nationales présents ici ;
Distingués délégués, Mesdames et Messieurs ;
Je voudrai me joindre à SEM BRIGI RAFINI, Premier Ministre, pour souhaiter la bienvenue à nos distingués invités à Niamey pour la 39ème Session du Conseil Ministériel de l'APPO, ainsi que la 6ème Réunion du Conseil Exécutif qui a eu lieu mardi dernier :
Je voudrais également souhaiter la bienvenue aux Ministres et autres délégués qui n'ont pas pu se joindre à nous à Niamey pour des raisons inévitables, mais qui participent à cette Réunion par vidéoconférence.
En outre, je voudrais souhaiter la bienvenue au Conseil des Ministre de l'APPO, à Messieurs Abdelmajid Atar et Oumar TORBO DJARMA, respectivement nouveau Ministre de l'Energie de l'Algérie et nouveau Ministre du Pétrole et des Mines du Tchad qui assistent pour la première fois à la Session du Conseil des Ministres de l'APPO, et présenter nos meilleurs vœux à leurs prédécesseurs.
Je tiens également à adresser nos félicitations à Son Excellence Gabriel Mbaga Obiang Lima, Ministre des Mines et des Hydrocarbures de la République de Guinée Equatoriale pour sa brillante reconduction, bien méritée après la dissolution du Gouvernement de son Pays il y a quelques mois.
La reconduction de son SE Gabriel Lima est la preuve de la reconnaissance de sa contribution à la transformation du Secteur de l'énergie et de l'industrie dans son cher pays, la Guinée Equatoriale : Au nom de tous, je lui souhaite un mandat très réussi et beaucoup plus de contributions à son pays et à notre Organisation :
Excellence Monsieur le Premier Ministre, Messieurs les Ministres,
Tant de choses ont changé depuis notre Session Ordinaire d'Abuja de décembre 2019, aucun d'entre nous n'avait jamais imaginé ce qu'il adviendrait du marché pétrolier en quelques mois seulement après cette Session, dans les trois mois qui suivaient les prix du pétrole ont commencé à chuter à des niveaux jamais vus auparavant. Les fondements de nos économies nationales ont été ébranlés à leurs racines et beaucoup de nos pays Membres ont dû reporter les projets importants qu'ils avaient prévus.
Toutefois, le rapprochement des pays producteurs de pétrole sous l'énergie de l'OPEP et ses partenaires de la Déclaration de coopération au deuxième trimestre 2020 a contribué à sauver la situation. Mais nous n'en sommes pas encor là. Je voudrais profiter de cette occasion pour féliciter nos Pays Membres qui sont également membres de l'OPEP ainsi que ceux de la Déclaration de Coopération dont les efforts et les sacrifices ont contribué à contenir la baisse des prix du pétrole :
Je voudrais également féliciter nos Pays Membres qui ne sont pas dans l'OPEP ni de la Déclaration de Coopération, mais qui ont soutenu notre proposition au plus fort de la COVID-19 en avril 2020 pour envoyer des messages de solidarité à l'OPEP et aux partenaires de la Déclaration de la Coopération au cours de cette période critique.
Excellence, l'année 2020 nous a appris une grande leçon, une leçon que nous ne voudrons jamais répéter, elle nous a appris les dangers d'une dépendance excessive à l'égard de sources externes pour la commercialisation de notre pétrole brut, pour le financement et le maintien de notre industrie pétrolière et gazière et pour la technologie externe. Bien que ce soit la réalité aujourd'hui avec tous nos Pays Membres, cette situation ne peut pas et ne doit pas durer éternellement. Nous faisons des efforts pour changer la situation. Mais nous devons faire encore plus, car le temps n'est pas de notre côté.
A cet égard, je suis heureux de constater que le Conseil des Ministres a approuvé une restructuration et des réformes majeures de l'APPO dont la mission a été achevée avec succès l'année dernière avec la nomination d'une nouvelle équipe de direction pour relever les défis actuels et futurs de l'industrie pétrolière sur notre Continent.
Je suis également heureux de constater que nonobstant les défis initiaux posés par la COVID-19 en 2020, nous avons fait des progrès dans la consolidation de la réforme de notre Organisation.
Le siège de l'APPO a finalement déménagé à son siège permanent à Brazzaville, l'Accord de Siège entre la République du Congo et l'APPO a été signé il y a exactement une semaine, et le personnel de l'Organisation opère maintenant à partir de l'Immeuble BSCA en attendant l'achèvement de la Tours APPO de 11 étages dans le centre-ville de Brazzaville.
Au nom de tous nos pays membres; je voudrais exprimer ma gratitude au Gouvernement et au peuple de la République du Congo pour leur soutien. Notre gratitude particulière va à notre collègue Monsieur jean Marc Thystere Tchicaya; Ministre des Hydrocarbures de la République du Congo pour l'appui apporté au Secrétariat. Je voudrai lui demander de veiller à ce que le siège du Secrétariat permanent soit rapidement achevé afin de permettre la pleine prise en charge de tout le personnel approuvé du Secrétariat.
Monsieur le Ministre Tchicaya, veuillez transmettre notre profonde gratitude au Gouvernement et au peuple de la République du Congo.
Permettez-moi également d'exprimer notre gratitude au gouvernement et au peuple de la République Fédérale du Nigéria pour avoir accueilli le Secrétariat de l'Organisation pendant 30 mois, période au cours de laquelle, le Nigéria a fourni pratiquement tous les besoins du Secrétariat sans charge pour l'Organisation. Nous vous remercions Monsieur le Ministre Sylva, et vous voudriez bien transmettre notre profonde gratitude au Gouvernement et au peuple de la République Fédérale du Nigéria.
Excellence, nous nous réunissons aujourd'hui pour examiner les recommandations du Conseil Exécutif qui s'est réuni mardi dernier pour faire le point des activités du Secrétariat, en particulier sur son programme de travail et son budget 2021. Je voudrais vous rappeler que nous n'avons achevé la réforme et la restructuration de l'APPO que l'année dernière en nous engageant à faire en sorte que notre Organisation améliore considérablement ses services afin de mieux servir les intérêts des Pays Membres.
Comme nous l'avons été depuis le début de la réforme de l'APPA, il y a quelques années, les défis de l'industrie pétrolière et gazière en Afrique sont uniques : outre la question de la volatilité des marchés pétroliers qui touche tous les producteurs de pétrole, en Afrique, nous avons le défi particulier de la sur dépendance aux recettes d'exportation de pétrole, technologie et finance étrangères et, dans certains cas, même, des ressources humaines. Ces questions ont été soulevées lors de la 38ème Session Extraordinaire du Conseil où nous avons pris la décision de commander une étude sur l'avenir de l'industrie pétrolière et gazière en Afrique à la lumière de la COVID-19 et la COP 21, nous attendons avec impatience les résultats et les recommandations de cette étude pour nous aider à mieux planifier l'avenir de l'industrie sur notre continent.
Excellences, 2020 étant la première année complète depuis l'achèvement de la réforme de l'APPA et la nomination d'une nouvelle équipe pour diriger le Secrétariat, en tant que Président de l'APPO, je peux dire que nous sommes sur la bonne voie. Le Secrétariat est géré de façon très professionnelle. Le Conseil exerce toutes ses responsabilités. Je tiens à féliciter le Secrétariat et le Conseil Exécutif pour leur engagement envers l'excellence professionnelle. De notre part, en tant que Ministres, je tiens à vous assurer de notre soutien afin que vous puissiez continuer à exceller.
Excellences, il faut en outre noter que nulle organisation ne peut se réaliser sans ressources. Tout en reconnaissant les difficultés que traversent nos Pays Membres, il est également important que nous nous engagions à éviter un danger plus grave à l'avenir. A cet égard, je voudrais faire appel aux Pays Membres qui ont des arriérés de contributions annuelles, y compris ceux qui n'ont pas payé les contributions de 2020, de le faire dès que possible.
La novelle APPO que voulons construire ne peut réussir sans le soutien financier et moral de chacun d'entre nous. Il convient de vous rappeler que même si les défis auxquels notre industrie est confrontée en Afrique sont énormes, et qu'après le Forum International de l'Energie, l'IEF, l'APPO compte le plus grand nombre de membres, plus que l'OPEP et le GECF. Notre budget annuel est inférieur de 10% à celui de l'OPEP et à environ 20% à celui du GECF. Pourtant, nous voulons que l'APPO obtienne aussi bien ou même dépasse le rendement de ces organisations.
Excellence Monsieur le Premier Ministre; Excellences les chefs de délégations,
Dans notre quête pour relever les défis du financement de projets en énergie sur le continent Africain, reconnaissant que nos sources d'investissements étrangers directs sont en train de se raréfier en raison des politiques discriminatoires mises en place contre les combustibles fossiles par nos financiers traditionnels, nous avions approuvé la recommandation de recapitaliser la Société Africaine d'Investissement en Energie, AEICORP, le bras financier de l'APPO, dont l'objectif est d'aider à lever des fonds pour des projets dans le secteur de l'Energie sur le continent :
Au cours de notre Session Extraordinaire de juin 2020, le Conseil a approuvé le regroupement des pays aux fins de la levée de fonds et nos collègues ont gracieusement accepté les responsabilités d'aider à mobiliser les Pays Membres pou qu'ils souscrivent à l'offre initiale. Au cours de cette Session, nous aurons des comptes rendus des chefs d'équipes sur leurs efforts.
J'invite donc tous au travail pour assurer le décollage réussi de l'AEICORP. Pour notre part, le Niger a été le premier pays à s'engager au Niveau de AEICORP et nous appelons les autres Pays Membres à nous emboîter le pas.
Merci de votre aimable attention.