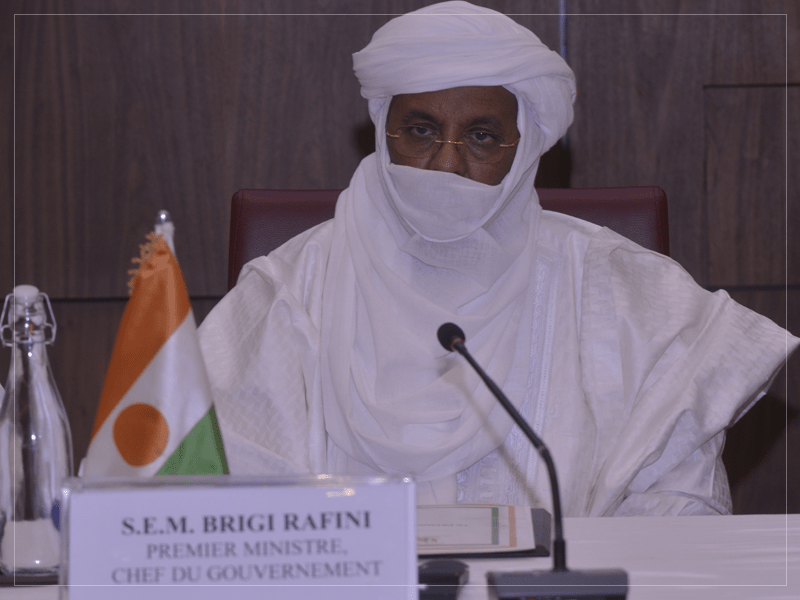 AT THE OFFICIAL OPENING CEREMONY OF THE SESSION OF MINISTERS IN CHARGE OF PETROLEUM OF THE MEMBER COUNTRIES OF AFRICAN PETROLEUM PRODUCERS' ORGANIZATION (APPO).
Niamey, November 19, 2020
Senior Minister, Minister of Petroleum, President of the Council of Ministers of Member Countries of the African Petroleum Producers' Organization;
Ladies and Gentlemen Ministers in charge of Hydrocarbons of the Member Countries of the African Petroleum Producers' Organization;
Ladies and Gentlemen Members of the Government of Niger;
Ladies and Gentlemen Members of the Diplomatic Corps and Representatives of International Organizations;
Ladies and Gentlemen of APPO Executive Board;
Ladies and Gentlemen, Delegates from Member Countries;
Distinguished Guests;
Ladies and Gentlemen ;
I would like, at the beginning of my speech, to welcome all those who made the trip to Niamey to take part in the Ministerial Session of our common Organization, and tell you how very happy we are to welcome you here in Niger.
Niger is very pleased to host the ministerial session of the African Petroleum Producers' Organization in two ways.
First of all, our country is holding the current Presidency of APPO and is hosting this body of our Organization for the first time.
Then, APPO, whose vocation is to promote synergies and common actions in terms of oil industry policies in favor of its Members, is certainly a tool for African integration.
But, in this matter, as you know, the President of the Republic, Head of State of Niger, His Excellency ISSOUFOU MAHAMADOU, is an ardent craftsman of African integration.
Designated by his peers as champion of the African Continental Free Trade Area (ZLECAF), he has effectively led this process of economic integration of our continent, a process that was concretized during the African Union Summit held in July 2019 in Niamey.
Ladies and Gentlemen Ministers,
Ladies and Gentlemen,
The opening of this Session takes place in a particular context related to COVID-19 which has seriously affected economies of countries around the world in general, and in particular those of oil-producing countries that have observed an ever-known fall in the prices of oil and gas.
Some countries had to pay to get rid of their products due to market disruption.
This situation is a sufficient proof that global oil systems unfortunately have limits, limits that are dangerous for the future of the African oil industry in particular.
The lesson to be learned is that there are enormous challenges. One of the challenges is to be able to reflect on innovative resilience mechanisms to protect our oil sector.
In Niger, we are committed to this because we see the oil sector as a lever for the country's economic growth.
This means that, the COVID-19 pandemic will have to be, for us, a new starting line in connection with the relaunching of the reformed APPO with a new mission, a new vision, a new organization chart and new strategic objectives.
For this to happen, APPO must absolutely stick to its vision, that of a major and reference Institution in the world on hydrocarbon issues in Africa.
APPO must be able to create the necessary synergies because there is an urgent need to make the oil industry a tool for the economic and social development of our countries, to create a real market balance in a context where dumping, overproduction or counterbalancing are increasingly developing.
Even if our countries have more and more expertise, special emphasis must be placed on human capital and the value chain, which are the only conditions for Africans to effectively take control of a sector that is as strategic as it is vital.
Taking control also implies quality governance. In Niger, governance of the extractive sector is a top priority of the President of the Republic.
This is why the Government has taken steps to make the Initiative for Extractive Industry Transparency (EITI) effective, with the participation of all stakeholders: the administration, the private sector and civil society.
Ladies and Gentlemen,
The ten-year plan of the African Union for the period 2013-2023 provides for 11 key projects of Agenda 2063, including the African Raw Materials Strategy and the African Mining Vision program.
Oil should be a potential for growth, and help translate into reality the Vision of Africa in 2063 declared as follows: "an integrated, prosperous and peaceful Africa, led by its own citizens, and representing a dynamic force on the international scene".
In order to do this, it is necessary, through oil, to create the conditions for an industrial transformation of our continent because Africa is one of the least industrialized continents.
I am pleased to see that APPO is working on perspectives that allow for hope. Such as the 1st Summit of Heads of State and Government and its Member Countries scheduled for the coming months, or the idea of an African Energy Investment Bank.
We need energy independence to support people's development and well-being.
Niger pleads for an energy that preserves the environment; this is why it seems appropriate to me to insist on the need to avoid the "flaring" of associated gases by using them in the production of energy.
In addition to the Bank that I mentioned earlier, I also note the APPO's desire to create an African physical market that would integrate all aspects of our needs for the development of African oil industries.
In addition, APPO has a Framework Agreement that serves as a basis for exchanges and cooperation among its Member Countries.
The opportunity must be seized to create a synergy of action so that African Local Content, which varies from 5 to 22%, can be raised to at least, stabilize 10% for countries with low rates.
Speaking of synergy, I welcome the highly beneficial partnership between OPEC and APPO, and hope that it will strengthen our capabilities in the global oil trade.
In conclusion, I remain convinced that your session is an additional opportunity to provide appropriate responses to the concerns of the Oil and Gas sector in Africa.
Reiterating my appreciation to the members of the Executive Council and the Secretary General of APPO for their abnegation to the task, I declare open the proceedings of the 39th session of the Council of Ministers of the African Petroleum Producers' Organization.
I thank you.
A LA CEREMONIE OFFICIELLE D'OUVERTURE DE LA SESSION DES MINISTRES CHARGES DU PETROLE DES PAYS MAMBRES DE L'ORGANISATION DES PRODUCTEURS DE PETROLE AFRICAINS (APPO).
Niamey, le 19 novembre 2020
Monsieur le Ministre d'Etat, Ministre du Pétrole, Président du Conseil des Ministres des Pays Membres de l'Organisation des Producteurs de Pétrole Africains ;
Mesdames et Messieurs les Ministres Chargés des Hydrocarbures des pays membres de l'Organisation des Producteurs de pétrole Africains ;
Mesdames et Messieurs les Membres du Gouvernement du Niger ;
Mesdames et Messieurs les Membres du Corps Diplomatique et Représentants des Organisations Internationales ;
Mesdames et Messieurs les Membres du Conseil Exécutif de l'APPO ;
Mesdames et Messieurs les Délégués des Etats Membres ;
Distingués Invités ;
Mesdames et Messieurs ;
Je voudrais, à l'entame de mon propos, souhaiter la bienvenue à tous ceux qui ont fait le déplacement de Niamey pour prendre part à la session ministérielle de notre Organisation commune, et vous dire combien le Niger est très Heureux de vous accueillir ici chez vous, au Niger.
Le Niger est très heureux d'accueillir la session ministérielle de l'Organisation des Producteurs de pétrole Africains à un double titre :
D'abord, notre pays assume actuellement la présidence en exercice de l'APPO, et accueille pour la première fois cette instance de notre Organisation ;
Ensuite, l'APPO, qui a vocation à promouvoir les synergies et actions communes en matière de politiques de l'industrie pétrolière en faveur de ses membres, est assurément un outil d'intégration africaine.
Or, en cette matière, comme vous le savez, le Président de la République, Chef de l'Etat du Niger, Son Excellence ISSOUFOU MAHAMADOU, est un ardent artisan de l'intégration africaine.
Désigné par ses pairs Champion de la Zone de Libre Echange Continentale Africaine (ZLECAF), il a conduit avec efficacité ce processus d'intégration économique de notre continent ; démarche concrétisée à l'occasion du Sommet de l'Union Africaine tenu en juillet 2019 à Niamey.
Mesdames et Messieurs les Ministres,
Mesdames et Messieurs,
L'ouverture de la présente Session intervient dans un contexte particulier lié à la COVID-19 qui a sérieusement affecté les économies des pays du monde entier en général, et particulièrement, celle des pays producteurs de pétrole qui ont observé une chute jamais connue des prix du pétrole et du gaz.
Certains pays ont dû payer pour se débarrasser de leurs produits en raison du dérèglement du marché.
Cette situation prouve à suffisance que les systèmes pétroliers mondiaux ont, malheureusement, des limites, des limites qui sont dangereuses pour nos économies et pour l'avenir de l'industrie pétrolière africaine, en particulier.
La leçon à tirer, c'est qu'il y a d'énormes défis à relever. L'un des défis c'est d'être en capacité de réfléchir sur des mécanismes innovants de résilience afin de protéger notre secteur pétrolier.
Au Niger, nous y tenons car nous concevons le secteur du pétrole comme un levier de la croissance économique du pays.
C'est dire que la pandémie de la COVID-19 devra être, pour nous, une nouvelle ligne de départ en lien avec la relance des activités de l'APPO reformée avec une nouvelle mission, une nouvelle vision, un nouvel organigramme et de nouveaux objectifs stratégiques.
Pour cela, l'APPO doit absolument être collée à sa vision, celle d'une Institution majeure et de référence dans le monde sur les questions d'hydrocarbures en Afrique.
Elle doit être capable de créer les synergies nécessaires parce qu'il y a urgence à faire de l'industrie pétrolière un outil de développement économique et social de nos pays, à créer un réel équilibre du marché dans un contexte où le dumping, la surproduction ou la contrebande se développent de plus en plus.
Même si nos pays disposent de plus en plus d'expertises, il va falloir mettre un accent particulier sur le capital humain et la chaine de valeur, seules conditions d'une prise en main s effective par les Africains d'un secteur aussi stratégique que vital.
La prise en main suppose aussi une gouvernance de qualité. Au Niger, la gouvernance du secteur de l'industrie extractive est une priorité de premier ordre du Président de la République.
C'est pourquoi, le Gouvernement a pris des dispositions pour rendre l'Initiative pour la Transparence dans les Industries Extractives (ITIE) effective, avec la participation de toutes les parties prenantes à savoir l'administration, le secteur privé et la société civile.
Mesdames et Messieurs,
Le Plan décennal de l'Union Africaine pour la période 2013-2023 prévoit 11 projets phares de l'agenda 2063 au titre desquels figurent la Stratégie Africaine des Matières Premières et le programme de la Vision Minière Africaine.
Le pétrole doit être un potentiel de croissance, et contribuer à traduire dans les faits la Vision de l'Afrique en 2063 déclinée comme suit : « une Afrique intégrée, prospère et pacifique, dirigée par ses propres citoyens, et représentant une force dynamique sur la scène internationale ».
Pour ce faire, il y a lieu, à travers le pétrole, de créer les conditions d'une transformation industrielle de notre continent car l'Afrique est l'un des continents les moins industrialisés.
Je me réjouis de constater que l'APPO travaille sur des perspectives qui autorisent l'espoir. À l'exemple du 1er Sommet des Chefs d'État et de Gouvernements et ses pays membres prévu dans les prochains mois, ou encore de l'idée d'une Banque Africaine d'Investissement en Energie.
Il nous faut une indépendance énergétique pour soutenir le développent et le bien-être des populations.
Le Niger plaide pour une énergie qui préserve l'environnement ; C'est pourquoi, il me parait opportun d'insister sur la nécessité d'éviter le « torchage » des gaz associés en les utilisant dans la production de l'énergie.
Outre la Banque que j'évoquais plus haut, je note aussi la volonté de l'APPO de créer un marché physique africain qui intégrerait tous les aspects de nos besoins pour le développement des industries pétrolières africaines.
En plus, l'APPO dispose d'un Accord Cadre qui sert de base d'échanges et de coopération entre ses États membres.
L'occasion doit être saisie pour créer une synergie d'action pour que le Contenu Local Africain qui varie de 5 à 22% puisse être porté à au moins 10 % pour les pays à faible taux.
En parlant de synergie, je me réjouis du partenariat hautement bénéfique entre l'OPEP et l'APPO, et fonde l'espoir qu'il renforcera nos capacités dans le négoce pétrolier mondial.
Pour conclure, je reste convaincu que votre session est une opportunité supplémentaire pour apporter des réponses adaptées aux préoccupations du secteur des Hydrocarbures et du Gaz en Afrique.
En réitérant mes appréciations aux membres du Conseil Exécutif et au Secrétaire Général de l'APPO pour leur abnégation à la tâche, je déclare ouverts les travaux de la 39ème session du Conseil des Ministres de l'Organisation des Producteurs de Pétrole Africains.
Je vous remercie.